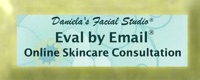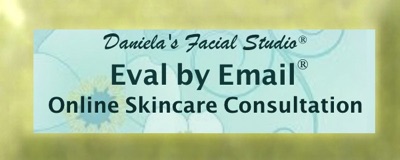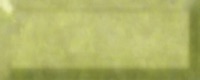 Return Policy for Products
At Daniela's Facial Studio® quality and integrity are top priority. The best way to serve your skin's needs is to make sure you have the right products for your skin, with total involvement in your purchase decisions, rather than leave you out in the cold to self-diagnose and spend your money by trial and error. Therefore, the return policies are strict in order to be able to fully serve you. If you are not sure what products will be right for you, or if you think you might have reactions, please contact Daniela for help on choosing samples of products to try. Please keep in mind, samples do not serve the purpose of finding out if a product works! We're only looking for adverse reactions, and whether or not they are pleasant to use. Acne clearing takes much more time than samples allow.
Returns due to allergic reaction must be made within 7 days, with the allergic reaction made visible in person or by emailed photo, for refund or exchange.
Returns due to general dissatisfaction with the product are up to Daniela's discretion and must be made within 14 days, for store credit only - please order samples first in order to be more certain of your purchases. Please email Daniela to discuss your return.
No returns will be accepted for makeup, no exceptions. Please purchase sample trios to try colors out before you purchase full sizes.
Because of the high level of communication and the availability of samples, return policies will be strictly enforced.
Please note : Daniela's Facial Studio will not be responsible
for any lost or stolen shipments in transit or on arrival.
If you think this may happen, please choose
a more secure address for shipment.
so sorry, shipping is not available outside the U.S.
For pickup, Daniela's Facial Studio will not be responsible
for replacing any product stolen from the pickup box.
Cancellation Policy For Services
24 hour notice required.
Cancellations must be made more than 24 hours in advance. Upon the first cancellation under 24 hours, you must rebook right away, for right away, otherwise you will be charged half the amount of the cancelled booking - if no appointment is available right away, you will be charged. Upon the second cancellation you will be charged half the amount regardless, and upon the third you will be charged the full amount. After that, you will not be invited to book again. Cancellation policy will be strictly enforced.
Credit card numbers are not kept on file.
Accepted Payments :
VISA
MASTERCARD
DISCOVER
CASH (in salon only)
CHECKS (in salon only)